Sign up for our mailing list and receive 15% off your next order.
Energizing Citrus Body Wash
01BWEC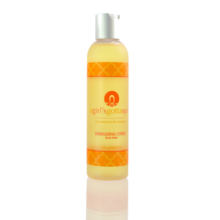 Available Products
Treat yourself to less stress. A Girl's Gotta Spa!® Energizing Citrus Body Wash provides a naturally luxurious, gentle cleansing and leaves skin hydrated while looking and feeling soft and healthy. Energizing essential oils of pink grapefruit, orange, lemon and lime will uplift the senses and revitalize you. (Learn more about our natural ingredients.)
Invigorate. Renew. Revive. You Deserve to be Pampered.
Our products do not contain:
Sulfates
Formaldehyde
Parabens
Synthetic fragrances or dyes
Petrochemicals
This natural body wash is:
Cruelty free (Leaping Bunny certified)
98% Natural 
Made in the USA
Vegan
Apply to damp skin with a bath sponge or washcloth, massage a small amount of body wash onto skin and work into a lather. Rinse well and pat dry. For best results, use daily followed by Energizing Citrus Body Lotion. As this is a citrus-based body care product, it may cause photosensitivity. Take care and always wear a broad spectrum UVA/UVB sunscreen. Store away from heat and sunlight.
8fl oz/236.6ml
Shipping Information Free Shipping
International Shipping Information
What people are saying:
"The liquid wash easily lathers up into a rich foam that feels super luxurious, and just a squirt will get your whole body clean. The scent softly lingers on the skin and the wash leaves behind clean, invigorated, soft and smooth skin." we heart this
"The Energizing Citrus Body Wash has everything I require in a body wash (and I'm kinda picky): it's gentle, it leaves my skin feeling silky smooth AND I love the citrus scent. Done deal." – Honestly Jamie
"I swear it smells like my childhood in Orange County, California when there was nothing but orange trees and grapefruit groves as far as you could see. I'm not kidding, it smells REAL and not at all artificial or plastic-y. This scent is fresh, invigorating and revitalizing, I truly love it!" – Prime Beauty