Sign up for our mailing list and receive 15% off your next order.
Energizing Citrus Body Lotion
01BLEC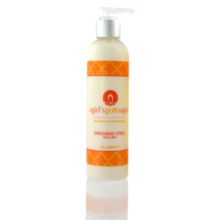 Available Products
Lift your spirits, soften your skin. A Girl's Gotta Spa!® Energizing Citrus Body Lotion is a natural, light, sheer lotion which effortlessly absorbs into skin to help restore your natural moisture balance. Antioxidant-rich olive oil, richly textured African shea butter and unprocessed natural cocoa butter, smooth, hydrate and help to improve skin's elasticity. Powerful essential oils treat the skin and enlighten the senses. This gentle, moisturizing lotion provides soothing, hydrating relief and leaves your dry skin looking and feeling soft and healthy. (Learn more about our natural ingredients.)
Invigorate. Renew. Revive. You Deserve to be Pampered.
This product does not contain:
Sulfates
Formaldehyde
Parabens
Synthetic fragrances or dyes
Petrochemicals
This natural body lotion is:
Cruelty free (Leaping Bunny certified)
94% Natural 
Made in the USA
Vegan
Massage a small amount of A Girl's Gotta Spa!® Energizing Citrus Body Lotion on your skin until well-absorbed, paying attention to your driest spots like knees and elbows. For optimum results, use after A Girl's Gotta Spa!® Energizing Citrus Body Wash. As this is a citrus-based body care product, it may cause photosensitivity. Take care and always wear a broad spectrum UVA/UVB sunscreen. Store away from heat and sunlight.
8fl oz/236.6ml
Shipping Information Free Shipping
International Shipping Information
What people are saying:
"This light lotion smells just as fantastic as the body wash. While the formula is lightweight, this lotion packs a punch. It just melts into my skin without leaving any greasiness behind." – we heart this
"I've been extremely happy with this lotion because it has taken away the dry skin and keeps me moisturized all day long. The scent? Simply divine." – Hairspray & High Heels
"This new Energizing Citrus lotion is lightweight and sinks into my skin immediately, and it also smells absolutely amazing! The citrus blend is very realistic." – Babble.com
"On each pump of this lotion, I had to resist the temptation to eat it!  It comes out looking like a dab of real whipped cream – the kind you beat by yourself, not the aerosol supermarket canned stuff." – Beauty After 50